Built environment comms professional? Stand out by learning the science behind the art of communications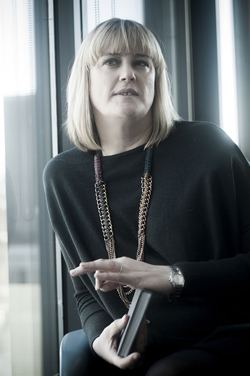 Harriett Hindmarsh,
Chair of the Board for IBP and Vice President, Global Marketing and Communications at AECOM. ​
I've worked in the built environment industry as a communications professional for over 10 years and in that time I've seen the role evolve enormously.
The post-recession world is incredibly dynamic and demanding with more and more pressure on resource and the need to be accountable, and in my opinion as professionals we need to acknowledge the way the profession is changing.
Here are the major trends that you need be on top of if you want to thrive.
Understand your business drivers
The fundamental skill I think you need is often overlooked: having a working understanding of business drivers.
This one attribute is appreciated all the way to the top. Chief Executives want to promote people who let business outcomes and drivers, rather than assumptions or empty metrics, inform and drive their activities. This is particularly relevant in communications. You should be continuously asking yourself: 'How can I use communication as a tool to support the business drivers of my organisation? How will this support growth initiatives?'
An understanding of profit and loss, financial efficacy and how to generate leads is what the industry and your clients are looking for. These are not communication skills per say, but an understanding is critical to delivering good communications campaigns.
You need to be able to communicate the value of your brand in a business sense. I find it very frustrating when people do not think about the impact their communication activities are having on business strategy, or how they need to evolve together.
If you don't understand how your role supports business strategy or have knowledge of your business, then you're not really doing your job effectively. You are just a press officer, rather than a communications professional.
Be accountable: measure your outputs and brand
The recession has increased the desire for efficiency. There is now a renewed awareness and emphasis on value, and how we provide value for money. There is also an emphasis on how we measure the value of what we do. Post-recession, we all have to be a lot more accountable.
Commercial businesses exist to make money. Chief executives want to see how their business' communications, brand and marketing drives the bottom line. It is critical that you are able to measure the impact of what you are doing.
In my opinion the UK construction industry has been slow to understand the value of the brand, but now it's a topic that's increasingly discussed at a board level.
That's a good thing for our profession, it means that we are now invited and involved in strategic conversations about how communications and marketing can support and drive growth.
Communications as conversations
We use all sorts of different channels now. It's no longer about communicating, it's about engaging in two-way conversations and understanding the value of a dialogue as opposed to a broadcast.
There's less emphasis on press releases, you still use them for example to announce project wins or new hires but communicating now is more about understanding what your client's issues are and responding to them.
Part of understanding what those issues are means working closely with your client account management teams and understanding what their strategic drivers are.
From what I have seen, it is companies that invest in thought leadership and communicating on a knowledgeable basis with their clients, rather than promoting themselves in brochures or press releases, that are the ones that have the right kind of dialogue going and seem to be the most successful.
Certainly in terms of brand, the most successful examples are brands that engage with their clients in a meaningful way because they understand what their drivers are.
Tailor your message to each audience
You need to understand how to segment your stakeholders, which means you need to know who your stakeholders are and which channels and messages are appropriate for them.
For example, if you're working on a major infrastructure project you will have to consider:
Local community
Local government
Contractor community
Design community
Wider press
To communicate effectively you have to tailor your messaging for each of them. And this list is not an exhaustive list of stakeholders.
Some people think communications is neither an art nor a science. For me it is a bit of both, there is scientific element to the art of communications.
This means you need to break it down to its component parts and understand how to measure it. Run your campaign like that, and then be accountable for how you've run it.
Get up to speed with social media
All comms professionals should have a working understanding of social media and what good engagement looks like.
Twitter is an essential tool:knowing what and when to tweet, who to follow, what to retweet and so on, is an art in itself. There isn't a lot of pressure on comms professionals in this industry to develop those skills, because let's face it your Chief Executive may not get it. But that doesn't mean these are skills you should disregard.
Value can be hard to prove with social media but if you can prove who you're influencing then you will begin to win round the C-suite. For example, we launched a campaign last week and the Mayor of L.A. retweeted it. Our headquarters are in L.A. and we're pitching for a lot of work in L.A. The fact the Mayor has re-tweeted our carbon disclosure campaign is just massive. You don't have to prove the value of that, it's obvious.
It doesn't matter if you get a hundred retweets, if you got that one retweet. Understanding the dynamics of social media is vital if you want to make the most of it as a communication tool.
Learn from other industries
Continuing to learn and develop new skills is key to keeping abreast of new channels and aspects of communication and how to maximise them.
I'm lucky in that I work for a company that offers lots of training opportunities.
But even if you don't have access to that, you can always spend some time with your HR department.
Ask:
What challenges we facing as a business?
What challenges our staff population facing?
What are their concerns?
How do we look at employee engagement?
If you don't have engaged employees then you don't have brand ambassadors, if you don't have brand ambassadors you're not selling your company properly. If you're not selling your company properly than you're not impacting the bottom line and you are not doing your job properly either.
As well as HR, spend some time with your finance people. Get copies of your monthly reports, sit in on your Chief Executive's monthly briefing to his leadership team and be open to learning more about different aspects of your business.
Talk to journalists. They probably spend more time with your clients and have an understanding of what their issues are. They'll also spend time networking with other journalists, and networking with your peers. Their insights will be invaluable in getting to grips with industry trends.
You can always look to external groups or networks, like the IBP, as valuable sources of learning and development, as well as good networking opportunities. Depending on your organisation, you may not get all the training opportunities you wish for but there are plenty of places outside of the office to broaden your knowledge – I'm proud that IBP is a great example of that.
Comms is on the rise
I've met a lot of people working in communications over the years and from what I've seen it has not always been treated as a science or a profession, so to speak.
I think that's changing.
Churning out press releases is a communications strategy conscripted to the past. As we look forward the concern will be how to engage and ignite meaningful two-way conversations, which are about addressing clients' needs rather than just broadcasting messages.
The recession has driven a need to be more accountable for what we do and finding ways to demonstrate how comms impacts the bottom line will be a big part of that.
As impact becomes more measurable I think increasingly there will be a greater role for communications at a strategic board level. Aspiring communications professionals need to be aware of this, the bar, and therefore the opportunities, are getting higher all the time.