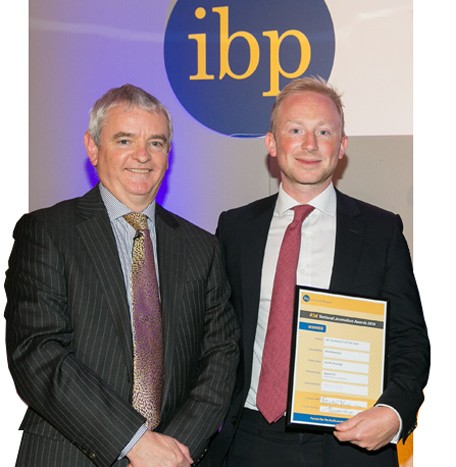 Savills Headline IBP Journalism Awards

Photo: 2014 triple award winner, Nick Duxbury, Inside Housing, with David Orr, Chief Executive, National Housing Federation and the coveted Journalist of the Year award.

Savills has taken on the headline sponsorship for this year's IBP Journalism Awards, after five years as sponsor of the Commercial Property Writer category.

Victoria Buchanan, Savills Director and Head of Commercial Press said: "Our commitment to the awards and decision to expand the categories that we sponsor reflects the breath and depth of our business. It is also important to us to support the journalists who work hard to provide our industry with the best news and analysis in the business sector".

Gerald Bowey, Chief Executive of ibp Services commented: "I am delighted that Savills have reviewed their support of the awards and committed to the headline sponsorship, which includes hosting the Business/Financial Journalist category as well as the coveted IBP Journalist of the Year Award. This sits well with our other sponsors, listed below"

Savills will also host the pre Awards Dinner reception, at the Four Seasons hotel, due to take place on Thursday 19th November.

There are still a couple of categories available for sponsorship, so if you want to host a table in the company of leading editors and journalists and put your brand on a category please contact me on 0771 348 9390 or email: gerald@geraldbowey.co.uk for full details.